Sky Ropes *Now closed until February half term 2024*
Your family adventure starts here! Swing, swoop and soar on our specially designed Sky Ropes.
At a glance
Book your Sky Ropes Adventure tickets today.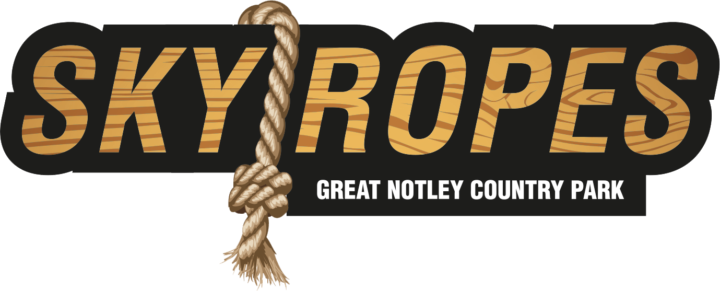 Book Sky Ropes Adventure tickets now
Sky Ropes Adventure
Sky Ropes Adventure for adults and children from 1 metre tall. Perfect for the whole family!
Our two-level high ropes course is a great adventure for adults and children starting from 1m tall.
Sky Ropes Adventure is a two-level family friendly high ropes course. Adventurers can explore by navigating their way around bridges and beams high in the sky. With two levels you decide how high you dare to go.

Your Sky Ropes adventure lasts 75 minutes which includes being harnessed by our specially trained staff and a safety briefing.
Height Restrictions
You must be over 1.22m (4ft) to go on unaccompanied. You may also go on if measuring between 1m – 1.22m (4ft) but must have an adult chaperone to accompany you. One adult per child, chaperones require a separate ticket.
Sky Ropes Junior
For Toddlers and younger adventurers
Young thrill seekers from 2 years old can take part and test their balance across our beams and bridges.
Sky Ropes Junior is an exciting way for young thrill seekers to explore rope bridges, conquer beams and develop new skills. It offers a wonderful day out where you can test their balance and agility and create a memorable experience.
Our specially trained staff will harness young explorers to a super safe tracking system, so they can discover the course independently or with someone alongside.

The adventure lasts around 30 minutes and there is always an instructor onsite to offer any help and answer questions.
Height Restrictions
Minimum age: 2 years
Maximum height: 1.22m (4ft)
All children must have an adult chaperone each. One adult per child, chaperoning adult does not require a separate ticket.
Know before you go
Know before you go
Wear closed toe, flat shoes. (Flip flops, crocs and sandals are not permitted on the course)
Wear suitable clothes for harness/wet weather.
Bring contactless payment such as your bank card for the car park.
You will need to go to reception to book on or check in if pre-booked.
Reopening - new rules
Masks must be worn by customers whilst in the Sky Ropes reception and whilst being harnessed
Only one family group in reception at one time
Customers must sanitise hands before and after session (sanitiser will be available at reception and course)
Customers should allow more time to park and check in at reception as we expect the car park will be busy
Make sure you read our general rules and terms and conditions before you visit to avoid disappointment on the day.
FAQs
What's the difference between Sky Ropes and Sky Ropes Junior?
They are two separate courses. Sky Ropes is our Main Course suitable for children over 1.22m (4ft). You may also go on if measuring over 1m but must have an adult chaperone to accompany them. Sky Ropes Junior is suitable for children at least 2 years old and less than 1.22m (4ft). All children on the Junior Course must have an adult chaperone each.
What happens if it rains?
Your session will still go ahead in rainy weather. Sky Ropes is an all-weather activity, so please dress appropriately. We will only close the course during high winds or thunder and lightning.
Do I need to pre-book?
We always advise pre-booking your session so you have the time slot best suited for you. It is also possible to walk in on the day and book in however we cannot guarantee availability and there could be a waiting time.
Can I chaperone more than one child?
If your child requires a chaperone it must be one adult per child. This applies for the Sky Ropes and Sky Ropes Junior.
My child needs a chaperone; do I need to pay as well?
If your child is going on the Junior Course you do not need to pay for a ticket, however if you are chaperoning on the Sky Ropes course you will need to pay for a ticket which is £10 per person.
How long does a session last?
Your Sky Ropes session will last 75 minutes and the Junior Course session will last 30 minutes.
Do I have to stay with my children whilst they take part on the course?
If your children are tall enough to go on the course unaccompanied you do not have to stay at the course with them. You are welcome to watch from underneath the course, or feel free to grab a coffee from Skylark Café! Sky Ropes customers receive 10% off when spending over £5. Present your wristband to receive the discount.
Can I bring my dog?
Sure! Dogs are more than welcome within the Sky Ropes area, we do ask that they are kept on their leads at all times and any mess cleaned up.

Are adults allowed to go on too?
Of Course! Our Sky Ropes course is suitable for children and adults; you wouldn't be able to go on the Junior Course though.
Is parking included in the price?
Unfortunately parking is not included in your ticket price so please bring change or your debit/credit card to pay for parking after you have finished your visit.
Do you have to clip on and clip off yourself?
Not at all, our course is different from others. Our instructors will load you onto the course at the beginning and you will remain on until a instructor takes you off at the end of your session. There is no way you are able to unclip yourself during your adventure.
Can I spectate?
You are more than welcome to watch from underneath the course. They is also some seating dotted around the enclosure.
Are there any weight restrictions?
The maximum weight is 136kg (21.5 stone).
What's the maximum height?
For the Junior Course you must be less than 1.22m (4ft). On the Sky Ropes course the maximum height is 6ft 8.
Am I able to change/amend my booking?
Call us on 0333 013 2901 and we will do what we can to assist with your booking.
Can I get drinks/food?
Skylark Café is located in the building near the Sky Ropes Course; they offer a variety of drinks, sandwiches, cooked food, snacks and ice cream. Sky Ropes customers receive 10% off when spending over £5. Present your wristband when paying to receive your discount.
I'm running late to my booking what can I do?
If possible, please call us on 0333 013 2901 to let us know if you think you'll be late. We will always do what we can to accommodate for late arrivals however this is not always possible.
If I go on the course and decide I don't like it can I get my money back?
Unfortunately, no, we do not offer refunds. Once you are connected onto the course you are no longer eligible for a refund should you decide you would not like to continue.

Book Sky Ropes Junior tickets now
Image gallery
Where to find us
Explore Essex
Search our parks and places to plan your perfect day out
Venues you may be interested in…
Home to Essex's longest play trail and Sky Ropes, Great Notley Country Park offers the perfect family day out.
Braintree, Great Notley, CM77 7FS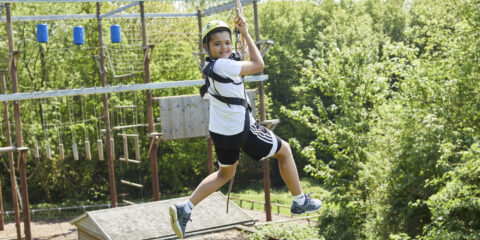 Danbury offers a wide variety of programmes including activities such as aerial trekking, canoeing, climbing and mountain biking. Duke of Edinburgh and expedition leadership courses are also run from this site. Danbury's 70 acre site offers many options for your accommodation, conferencing and room hire needs – catered or self-catering.
Well Lane, Danbury, CM3 4AB
With over 60 acres of beautiful grounds and commanding far-reaching views across the estuary, you can discover many thrilling adventures at Essex Outdoors Mersea. The coastal location is quite special. The surrounding marshes and beaches make it the ideal environment for shore-based studies with access to a small field study centre in a creek nearby, only reachable by boat. A new Lake will also be available to our customers in 2020!
Rewsalls Lane, Colchester, CO5 8SX