Jaywick Creatives Exhibition
Discover three artists from Jaywick Sands
Jaywick Martello Tower proudly presents to you Jaywick Creatives.
The Jaywick Creatives exhibition came about through conversations with local artists, Coralina Cattrell, Josie Staessen, and Steve Eden, when they entered the 10th Anniversary of the Coastal Open exhibition in 2019.
Having recognised the immediate talent shown in that exhibition from these artists who live just a stone's throw away from the Tower it was clear an exhibition was needed that focused solely on the craft of these artist from Jaywick, and thus, the Jaywick Creatives exhibition was born.
Open every weekend from 10am-4pm.
Coralina Cattrell
My first love is working with clay, my second passion is painting. My influences are many from Vincent Van Gogh, through the logical design of the Art Deco movement to the fluidity of Art Nouveau designs. I hope my art will entice people to look around them and see that art is everywhere and realise that everyone is an artist in some way.
Josie Staessen
I discovered a late calling and love at first site when I took a mosaic making course in Thorpe-le-Soken after my husband died in 2004. My mosaics are an expression of what moves me deeply. I love colour and shapes and like to bring them together as a living structure.
'We are mosaics. Pieces of light, love, history stars . . . Glued together with magic and music and words' Quote: Anita Krizzan
Steve Eden
Creating sculptures from found objects is a passion of mine. I make fantastic things which are unusual but pleasing to look at. I also create portraits using a more 'conventional' style, I'm driven to do them, I love faces. Human expressions are works of art in themselves. The story of our ancestors is written in their mouths and eyes. I try to an elusive aspect of the character. There are several portraits of local Jaywick people in this exhibition.
*Main picture is 2019 Summer of Art exhibition at Jaywick Martello Tower
Event details
Explore Essex
Search our parks and places to plan your perfect day out
Need to know
Explorer Pass
Save money with your Explorer Pass

Our annual Explore Essex Pass will give you and your family the freedom to explore some of the incredible places and green spaces that Essex has to offer, as many times as you like throughout the year, with free parking at seven country parks, 2 or 1 on Sky Ropes, priority booking on specific events, and 10% discounts at many cafes and visitor centres.
Related events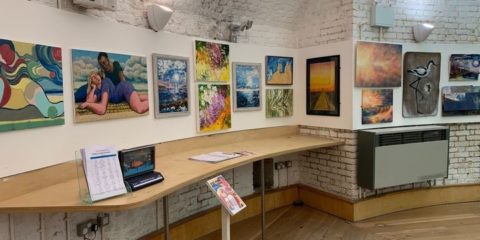 The annual Jaywick Martello Tower Coastal Open is back for 2022! Join us for this special open exhibition celebrating the talents of local artists and craft makers, from painting to pottery to poetry and beyond.
Dates:

September 8 - October 30, 2022

Venue:

Jaywick Martello Tower

Times:

9:00am - 9:00am
For the whole family
Price:
For the first of our Autumn 2022 talks Ken Bonham will be at JMT discussing Barns in Essex and Elsewhere.
Dates:

October 7, 2022

Venue:

Jaywick Martello Tower

Times:

11:00am - 12:00pm
For the whole family
Price: £2 entry, refreshments provided.
Seven years ago, Clacton and Holland beaches were replenished with sand and gravel from ten miles offshore. Beachcombers started finding fossils from mammoths and other Ice Age animals, and human-worked stone tools.
Dates:

October 14, 2022

Venue:

Jaywick Martello Tower

Times:

11:00am - 12:00pm
For the whole family
Price: £2 entry. Refreshments provided.